Hello everyone!
I am back with another Monday Reviews! This week, I am reviewing
The Kiss of Deception by Mary E. Pearson.
As always, the synopsis!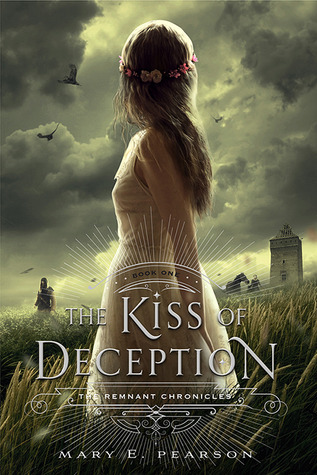 A princess must find her place in a reborn world.
She flees on her wedding day.
She steals ancient documents from the Chancellor's secret collection.
She is pursued by bounty hunters sent by her own father.
She is Princess Lia, seventeen, First Daughter of the House of Morrighan.
The Kingdom of Morrighan is steeped in tradition and the stories of a bygone world, but some traditions Lia can't abide. Like having to marry someone she's never met to secure a political alliance.
Fed up and ready for a new life, Lia flees to a distant village on the morning of her wedding. She settles in among the common folk, intrigued when two mysterious and handsome strangers arrive—and unaware that one is the jilted prince and the other an assassin sent to kill her. Deceptions swirl and Lia finds herself on the brink of unlocking perilous secrets—secrets that may unravel her world—even as she feels herself falling in love.
First off, lets just take a minute to admire this stunning cover! I think it is just so intricate and detailed! It really is gorgeous!
Okay, so now the book itself. It was good. Really really really good.
I loved every second of it!
The main character, Lia, is such an awesome character! She's strong and doesn't take anything from anyone! She stands up for herself and her friends, no matter what. I loved her character so much!
This story is unique
because you don't know who is the prince sent to retrieve her and which is the assassin. The chapters are broken up by Lia's, The Assassin's, The Prince's, Kaden's and Rafe's, but you don't know who is who.
I kept going back and forth on who was the prince and who was the assassin and I ended up guessing right in the end but I was so unsure throughout most of the book.
Overall this was a beautifully written and just all
around wonderful story!
I can't wait for book 2!