Hello everyone!
I am back with another Monday Reviews! This week, I am reviewing a book I read last week,
The Last Time We Say Goodbye by Cynthia Hand.
As always, stating off with the synopsis: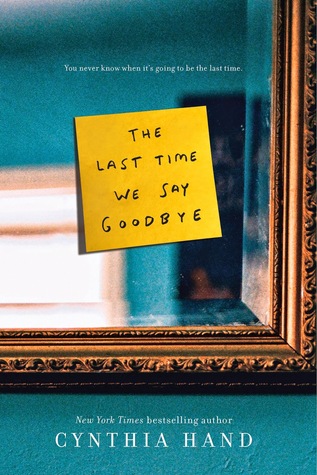 There's death all around us.
We just don't pay attention.
Until we do.

The last time Lex was happy, it was before. When she had a family that was whole. A boyfriend she loved. Friends who didn't look at her like she might break down at any moment.

Now she's just the girl whose brother killed himself. And it feels like that's all she'll ever be.

As Lex starts to put her life back together, she tries to block out what happened the night Tyler died. But there's a secret she hasn't told anyone-a text Tyler sent, that could have changed everything.

Lex's brother is gone. But Lex is about to discover that a ghost doesn't have to be real to keep you from moving on.

From New York Times bestselling author Cynthia Hand, The Last Time We Say Goodbye is a gorgeous and heart-wrenching story of love, loss, and letting go.
I absolutely loved this book! Everything about it. I
don't
think there was anything I
didn't
like.
If you have been following me for a while you will know that I find the suicide genre, especially the teen suicide genre, extremely fascinating. I don't know what it is or if it's just a morbid curiosity but I find them so interesting.

The Last Time We Say Goodbye was definitely no different.
I have read around a dozen books that deal with this difficult topic and this is in my top three.
Not only did I throughly enjoy the story but I also found the writing to be elegant and quite beautiful.
The story is told in two ways, Lexie's everyday life, and a journal that she writes in. We get most of the details about Ty in the journal but I think that both of the styles together were unique and offered more insight to the story.
While this was a difficult story to read, I think it is definitely one that needs to be read by many. I've previously talked
about
how I think that these types of books are great, especially in this
day
and age, because while it tackles a serious topic, the author also offers hope and gives those who are struggling someone
to
relate to,
along
with aspire to be like, and push through difficult times.
Overall, I highly recommend this book, and
gave it a full 5/5 stars on Goodreads!