Hello everyone!
It has been a little while, but I am back with another Monday Reviews! This week, I am reviewing
Last Will and Testament by Dahlia Adler
! I was sent an e-ARC from the author for review but all opinions expressed are my own.
As always, a synopsis: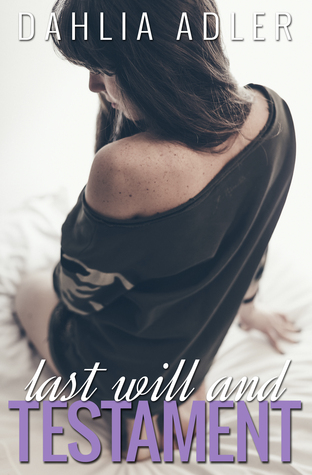 Lizzie Brandt was valedictorian of her high school class, but at Radleigh University, all she's acing are partying and hooking up with the wrong guys. But all that changes when her parents are killed in a tragic accident, making her guardian to her two younger brothers. To keep them out of foster care, she'll have to fix up her image, her life, and her GPA—fast. Too bad the only person on campus she can go to for help is her humorless, pedantic Byzantine History TA, Connor Lawson, who isn't exactly Lizzie's biggest fan.
But Connor surprises her. Not only is he a great tutor, but he's also a pretty great babysitter. And chauffeur. And listener. And he understands exactly what it's like to be on your own before you're ready. Before long, Lizzie realizes having a responsible-adult type around has its perks... and that she'd like to do some rather irresponsible (but considerably adult) things with him as well. Good thing he's not the kind of guy who'd ever reciprocate.
Until he does.
Until they turn into far more than teacher and student.
Until the relationship that helped put their lives back together threatens everything they both have left.
My first impression was wow! This was such a whirlwind of a story! I thoroughly enjoyed it and found it to be better than I was anticipating.
Subject wise, I really enjoyed this book. It reminded me a little bit of Slammed by Colleen Hoover (the family issues and guardianship) and Ignite by Lily Paradis (also the guardianship) but it still had its own unique qualities. I don't typically seek out teacher-student stories because I find most of the time they are done poorly, leaving me feeling a little creeped out. That concept, however, was handled wonderfully in this novel.
Of course, not many novels are perfect. There were some times when Lizzie bugged me and Sophie was almost too insane to comprehend but in the end I was able to finish it and really enjoy it without those being major issues.
I definitely recommend this story if you like New Adult or even just a lighter romance. I gave it a 4/5 stars on Goodreads!