Hello everyone!
As Mental Health Week in Canada draws to a close, I decided to post a review for one of my newest favourite books that deals with mental health, specifically depression and suicide. The book I am reviewing is
My Heart and Other Black Holes by Jasmine Warga.
Before I get into my review, I will just say that there is a major trigger warning with this book, if you are struggling with depression, or suicidal thoughts, I don't recommend you read this or similar books. The majority of this book is set in a very dark place, and won't help you.
Alright, so let's get to the review! As always, the synopsis: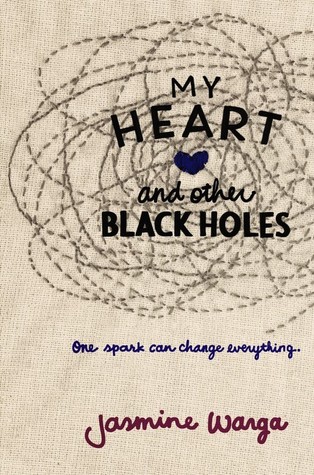 Sixteen-year-old physics nerd Aysel is obsessed with plotting her own death. With a mother who can barely look at her without wincing, classmates who whisper behind her back, and a father whose violent crime rocked her small town, Aysel is ready to turn her potential energy into nothingness.

There's only one problem: she's not sure she has the courage to do it alone. But once she discovers a website with a section called Suicide Partners, Aysel's convinced she's found her solution--Roman, a teenage boy who's haunted by a family tragedy, is looking for a partner. Even though Aysel and Roman have nothing in common, they slowly start to fill in each other's broken lives. But as their suicide pact becomes more concrete, Aysel begins to question whether she really wants to go through with it. Ultimately, she must choose between wanting to die or trying to convince Roman to live so they can discover the potential of their energy together.
Before I even start my review, can we just take a minute to admire this gorgeous cover? You think it looks great online, but I guarantee it is 1000% more stunning in real life! The stitching is almost 3D, you can feel it on the cover!
Okay, now that we have gawked over the cover, lets get to the book itself!
I absolutely loved this book! I feel like I say that about 95% of the books

I read, but honestly it is so true in this case.
The concept of the book is so dark and
because
of the topic, it was a little difficult to read, and hard to get through. The whole first half is mainly about Aysel and Roman
planning
their suicide.
This
isn't
a very light and fluffy book, so you
shouldn't
expect it to be anything short of gritty and raw. But towards the end, when things began to change, that was really when my heart broke. I don't want to say to much because it would spoil it but it became a little more hopeful, but I was still so sad because I didn't know what was going to happen.
The ending itself is a whirlwind but I really enjoyed it.
Like all books about suicide and depression, I truly believe that the author needs to do two things; show the reader the despair those in the situation feel, and also show the reader that there is hope if they feel similarly. Its one thing to just talk about suicide and depression and be done with it, but you need to have the belief in hope for yourself and the future in order to counteract the bad. I think Jasmine Warga did that beautifully here. She gave the characters the hope they needed to
persevere
I'm not going to say what happens in the end, but it was
heart wrenching.
Overall, I loved this book, and I highly recommend it! I gave it a full 5/5 stars on Goodreads.