Hello everyone!
I am back with another Monday Reviews! This week, I am reviewing a book that I recently picked up from Book Outlet,
Something Real by Heather Demetrios.
You may remember a few months ago I posted my review for Heather's third book,
I'll Meet You There
. You can check out
that review here,
I highly recommend the book!
Anyways, let's get started with the synopsis of
Something Real
: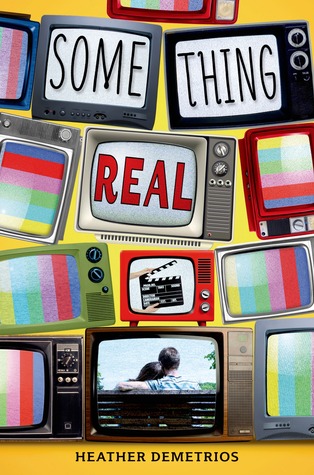 Seventeen-year-old Bonnie™ Baker has grown up on TV--she and her twelve siblings are the stars of one-time hit reality show
Baker's Dozen
.
Since the show's cancellation, Bonnie™ has tried to live a normal life, under the radar and out of the spotlight. But it's about to fall apart . . . because
Baker's Dozen
is going back on the air.
Bonnie™'s mom and the show's producers won't let her quit and soon the life that she has so carefully built for herself, with real friends (and maybe even a real boyfriend), is in danger of being destroyed by the show.
Bonnie™ needs to do something drastic if her life is ever going to be her own--even if it means being more exposed than ever before.
This book made me realize how good I have it.
And you might be thinking, it's a book about a reality TV family, how bad can it be?
Well, short answer, pretty bad.
The Baker family was the star of a hit reality TV show for years because they had a bakers dozen, think Jon and Kate Plus 8 (err Kate Plus 8) meets 19 Kids and Counting.
After a messy affair and subsequent divorce, the show comes off the air for four years. However, once the eldest children are 17 (there are three of them, no, not triplets...), and with a new stepfather in tow does the TV show start back up again.
The writing in this book was so amazing. You just felt like you were in Bonnie's shoes. I really felt horrible for those kids. A lot of the time, we watch these shows and don't think about the impact it has on the kids, in this case, aged 7 to 17.
Bonnie, the main character has been trying to live her life without the cameras. She created Chloe Baker, dyed her hair and didn't tell anyone about her past - a dark one - which thanks to the cameras, can be
rewatched over and over again.
These kids weren't spoiled brats. They were confused, angry and not always looked after properly. I felt especially bad for Chloe, she couldn't talk to her mom about anything because the cameras were rolling 24/7 and she would do anything to bump up ratings, including reading her daughters journal and forcing her some to come out as gay on live TV.
There were some good parts of Chloe/Bonnie's life. The relationship between Chloe and Patrick was just so sweet, it was what every girl dreams of.
Although this was a jokey-kind of book, a reality TV series, this book also dealt with issues such as attempted suicide, depression, divorce and loss.
Overall, I think this is a great book. It shines a new light on reality TV and it boasts a great romance. Definitely recommend! I gave it 5/5 stars on Goodreads.