Hello everyone!
I am back with another Top 5 Wednesday!

If you want to check it out, you can go to the

Goodreads group

and read more about it.
This week's topic is top 5 books I am anticipating! Let's get started!
Released: August 4, 2015
Best friends Dave and Julia were determined to never be cliché high school kids. They even wrote their own Never List of everything they vowed they'd never, ever do in high school.
Some of the rules have been easy to follow, b
ut Dave has a secret: he's broken rule #8, never pine silently after someone for the entirety of high school. It's either that or break rule #10,
never date your best friend
. Dave has loved Julia for as long as he can remember.
Julia is beautiful, wild and impetuous. So when she suggests they do every Never on the list, Dave is happy to play along. Dave and Julia discover that by skipping the clichés, they've actually been missing out on high school. And maybe even on love.
Released: September 1, 2015
Sarah J. Maas's New York Times bestselling Throne of Glass series reaches new heights in this sweeping fourth volume.
Celaena's epic journey has captured the hearts and imaginations of millions across the globe. This fourth volume will hold readers rapt as Celaena's story builds to a passionate, agonizing crescendo that might just shatter her world.
I won't say too much more about this book, because it is the fourth book in the series, and I
don't
want to spoil anything, but if you
haven't
read these books, get on it!
Released: November 10, 2015
Again, another sequel book, this is the finale of The Lunar Chronicles series! I don't want to spoil anything here either but I think a lot of other people are also highly anticipating this book as well, so if you haven't read the previous books up to this 824 page finale you need to get on that!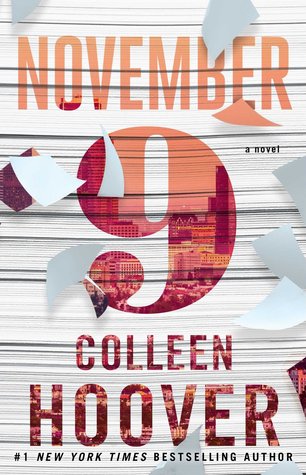 Released: November 10, 2015
Fallon meets Ben, an aspiring novelist, the day before her scheduled cross-country move. Their untimely attraction leads them to spend Fallon's last day in L.A. together, and her eventful life becomes the creative inspiration Ben has always sought for his novel.
Over time and amidst the various relationships and tribulations of their own separate lives, they continue to meet on the same date every year. Until one day Fallon becomes unsure if Ben has been telling her the truth or fabricating a perfect reality for the sake of the ultimate plot twist.
This is a love story between a guy (me) and a girl (Fallon).

I think.

Can it even be considered a love story if it doesn't end with love?

Mysteries end when the mystery is solved.

Biographies end when the life story has been told.

Love stories should end with love, right?

Maybe I'm wrong, then. Maybe this isn't a love story. If you ask me…I'd say this might even be considered a tragedy.

Whatever it is—however it ends—I promised I would tell it. So without further ado.



Once upon a time… I met a girl.
The girl.
Released: September 29, 2015
Set in the Grisha world,
Ketterdam: a bustling hub of international trade where anything can be had for the right price—and no one knows that better than criminal prodigy Kaz Brekker. Kaz is offered a chance at a deadly heist that could make him rich beyond his wildest dreams. But he can't pull it off alone...

A convict with a thirst for revenge.
A sharpshooter who can't walk away from a wager.
A runaway with a privileged past.
A spy known as the Wraith.
A Heartrender using her magic to survive the slums.
A thief with a gift for unlikely escapes.

Six dangerous outcasts. One impossible heist. Kaz's crew is the only thing that might stand between the world and destruction—if they don't kill each other first.
So! There you have it! See you next week!