It's getting nearer to the end of the year and I thought I would share some of my most anticipated reads for fall and winter 2018!
Hello everyone!
This list will consist of YA books coming out from September to December 2018 - I know there are lots of exciting releases in the new year but that's another post for another day! Alright, without further adieu, let's get to the books!
September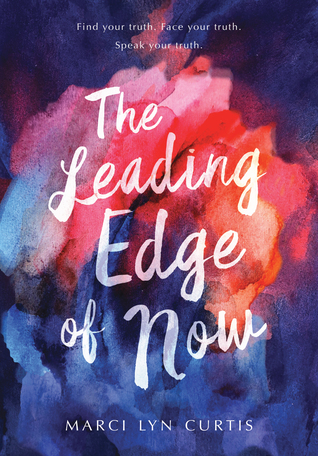 The Leading Edge of Now by Marci Lyn Curtis (published Sept 4)
Just when Grace is beginning to get used to being an orphan, her estranged uncle suddenly comes forward to claim her. That might have been okay if he'd spoken to her even once since her father died. Or if moving in with Uncle Rusty didn't mean returning to New Harbor.
Grace once spent the best summers of her life in New Harbor. Now the place just reminds her of all she's lost: her best friend, her boyfriend and any memory of the night that changed her forever.
People say the truth will set you free, but Grace isn't sure about that. Once she starts looking for it, the truth about that night is hard to find --- and what happens when her healing hurts the people she cares about the most?
Annabeth prefers the fantasy of her books and paintings to reality—because in reality, her mom is dead, and it was all her fault. When she accompanies her father to the funeral of some family friends, she's surprised to find her grief reflected in the face of Griffin, the son of the couple who died. Griffin is nothing like the carefree boy she once knew. Now he's irritable, removed, and he's under police investigation for his parents' deaths.

One night following the memorial service, Annabeth's dad goes missing in the woods, and she suspects Griffin knows more than he's letting on. He refuses to answer her questions.
Annabeth fears her father isn't lost, but rather a victim of something sinister. She launches her own investigation, tracing clues that whisper of myth and legend and death, until she stumbles upon a secret. One that some would die to protect, others would kill to expose—and which twists Annabeth's fantasy and reality together in deadly new ways.
Sadie hasn't had an easy life. Growing up on her own, she's been raising her sister Mattie in an isolated small town, trying her best to provide a normal life and keep their heads above water.
But when Mattie is found dead, Sadie's entire world crumbles. After a somewhat botched police investigation, Sadie is determined to bring her sister's killer to justice and hits the road following a few meagre clues to find him.
When West McCray—a radio personality working on a segment about small, forgotten towns in America—overhears Sadie's story at a local gas station, he becomes obsessed with finding the missing girl. He starts his own podcast as he tracks Sadie's journey, trying to figure out what happened, hoping to find her before it's too late.
Emika Chen barely made it out of the Warcross Championships alive. Now that she knows the truth behind Hideo's new NeuroLink algorithm, she can no longer trust the one person she's always looked up to, who she once thought was on her side.
Determined to put a stop to Hideo's grim plans, Emika and the Phoenix Riders band together, only to find a new threat lurking on the neon-lit streets of Tokyo. Someone's put a bounty on Emika's head, and her sole chance for survival lies with Zero and the Blackcoats, his ruthless crew. But Emika soon learns that Zero isn't all that he seems--and his protection comes at a price.
Caught in a web of betrayal, with the future of free will at risk, just how far will Emika go to take down the man she loves?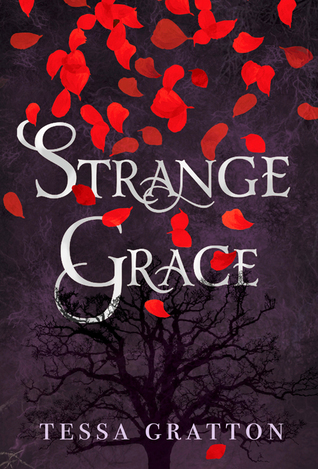 Once, a witch made a pact with a devil. The legend says they loved each other, but can the story be trusted at all? Find out in this lush, atmospheric fantasy novel that entwines love, lies, and sacrifice.
Long ago, a village made a bargain with the devil: to ensure their prosperity, when the Slaughter Moon rises, the village must sacrifice a young man into the depths of the Devil's Forest.
Only this year, the Slaughter Moon has risen early.
Bound by duty, secrets, and the love they share for one another, Mairwen, a spirited witch; Rhun, the expected saint; and Arthur, a restless outcast, will each have a role to play as the devil demands a body to fill the bargain. But the devil these friends find is not the one they expect, and the lies they uncover will turn their town—and their hearts—inside out.
Audrey Rose Wadsworth and her partner-in-crime-investigation, Thomas Cresswell, are en route to New York to help solve another blood-soaked mystery. Embarking on a week-long voyage across the Atlantic on the opulent RMS Etruria, they're delighted to discover a traveling troupe of circus performers, fortune tellers, and a certain charismatic young escape artist entertaining the first-class passengers nightly.
But then, privileged young women begin to go missing without explanation, and a series of brutal slayings shocks the entire ship. The strange and disturbing influence of the Moonlight Carnival pervades the decks as the murders grow ever more freakish, with nowhere to escape except the unforgiving sea. It's up to Audrey Rose and Thomas to piece together the gruesome investigation as even more passengers die before reaching their destination. But with clues to the next victim pointing to someone she loves, can Audrey Rose unravel the mystery before the killer's horrifying finale?


October
Beware of the woods and the dark, dank deep.
He'll follow you home, and he won't let you sleep.
Who are the Sawkill Girls?

Marion: the new girl. Awkward and plain, steady and dependable. Weighed down by tragedy and hungry for love she's sure she'll never find.

Zoey: the pariah. Luckless and lonely, hurting but hiding it. Aching with grief and dreaming of vanished girls. Maybe she's broken—or maybe everyone else is.

Val: the queen bee. Gorgeous and privileged, ruthless and regal. Words like silk and eyes like knives, a heart made of secrets and a mouth full of lies.

Their stories come together on the island of Sawkill Rock, where gleaming horses graze in rolling pastures and cold waves crash against black cliffs. Where kids whisper the legend of an insidious monster at parties and around campfires. Where girls have been disappearing for decades, stolen away by a ravenous evil no one has dared to fight… until now.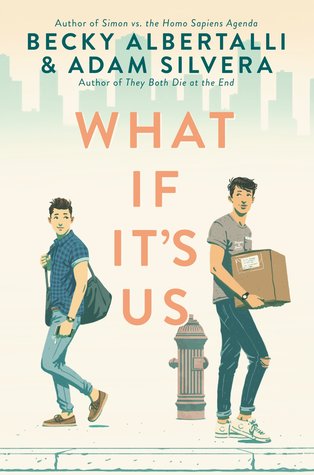 Oct 9)
Arthur is only in New York for the summer, but if Broadway has taught him anything, it's that the universe can deliver a showstopping romance when you least expect it.
Ben thinks the universe needs to mind its business. If the universe had his back, he wouldn't be on his way to the post office carrying a box of his ex-boyfriend's things.
But when Arthur and Ben meet-cute at the post office, what exactly does the universe have in store for them?
Maybe nothing. After all, they get separated.
Maybe everything. After all, they get reunited.
But what if they can't quite nail a first date . . . or a second first date . . . or a third?

What if Arthur tries too hard to make it work . . . and Ben doesn't try hard enough? What if life really isn't like a Broadway play? But what if it is?
Nathan Bird doesn't believe in happy endings. Although he's the ultimate film buff and an aspiring screenwriter, Nate's seen the demise of too many relationships to believe that happy endings exist in real life.
Playing it safe to avoid a broken heart has been his MO ever since his father died and left his mom to unravel—but this strategy is not without fault. His best-friend-turned-girlfriend-turned-best-friend-again, Florence, is set on making sure Nate finds someone else. And in a twist that is rom-com-worthy, someone does come along: Oliver James Hernández, his childhood best friend.
After a painful mix-up when they were little, Nate finally has the chance to tell Ollie the truth about his feelings. But can Nate find the courage to pursue his own happily ever after?
November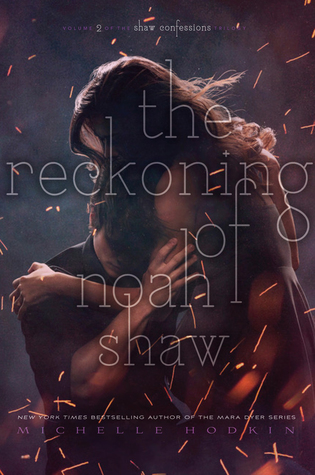 Noah Shaw doesn't think he needs his father's inheritance.
He does.
Noah believes there's something off about the suicides in his visions.
There is.
Noah is convinced that he still knows the real Mara Dyer.
He does not.
Everyone thought the nightmare had ended with Mara Dyer's memoirs, but it was only the beginning.
As old skeletons are laid bare, alliances will be tested, hearts will be broken, and no one will be left unscarred.
Lindley Hamilton has been the leader of the space station Lusca since every first-generation crew member on board, including her mother, the commander, were killed by a deadly virus.
Lindley always assumed she'd captain the Lusca one day, but she never thought that day would come so soon. And she never thought it would be like this—struggling to survive every day, learning how to keep the Lusca running, figuring out how to communicate with Earth, making sure they don't run out of food.
When a member of the surviving second generation dies from symptoms that look just like the deadly virus, though, Lindley feels her world shrinking even smaller. The disease was supposed to be over; the second generation was supposed to be immune. But as more people die, Lindley must face the terrifying reality that either the virus has mutated or something worse is happening: one of their own is a killer.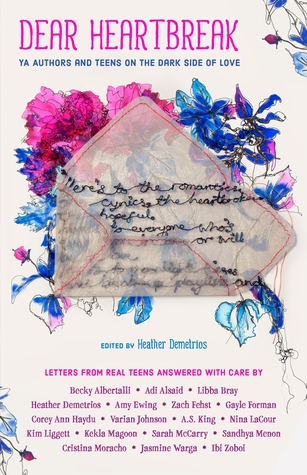 Dec 18)
In this powerful collection, YA authors answer real letters from teens all over the world about the dark side of love: dating violence, break-ups, cheating, betrayals, and loneliness.
This book contains a no-holds-barred, raw outpouring of the wisdom these authors have culled from mining their own hearts for the fiction they write.
Their responses are autobiographical, unflinching, and filled with love and hope for the anonymous teen letter writers.

Featuring Adi Alsaid, Becky Albertalli, Libba Bray, Heather Demetrios, Amy Ewing, Zach Fehst, Gayle Forman, Corey Ann Haydu, Varian Johnson, A.S. King, Nina LaCour, Kim Liggett, Kekla Magoon, Sarah McCarry, Sandhya Menon, Cristina Moracho, Jasmine Warga, and Ibi Zoboi.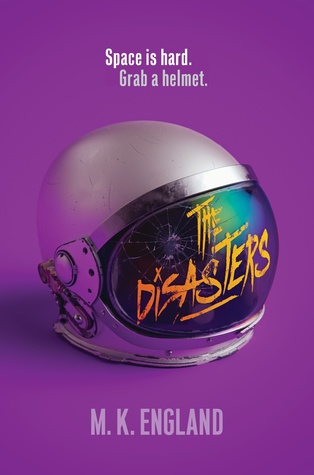 Hotshot pilot Nax Hall has a history of making poor life choices. So it's not exactly a surprise when he's kicked out of the elite Ellis Station Academy in less than twenty-four hours.
But Nax's one-way trip back to Earth is cut short when a terrorist group attacks the Academy. Nax and three other washouts escape—barely—but they're also the sole witnesses to the biggest crime in the history of space colonization. And the perfect scapegoats.
On the run and framed for atrocities they didn't commit, Nax and his fellow failures execute a dangerous heist to spread the truth about what happened at the Academy.
They may not be "Academy material," and they may not get along, but they're the only ones left to step up and fight.
And there you have it! My most anticipated books to finish out the year. Make sure you preorder any that caught your eye so you don't miss out on them and let me know what favourites you have that I might have missed!